Planning a San Diego vacation, or just looking for fun San Diego activities with the kids?  One of my favorite local San Diego events is celebrating 3o years this year!  It's the annual U.S. Open Imperial Beach Sandcastle Competition, held on Saturday & Sunday, August 7& 8, 2010.  This event holds something for everyone.  Saturday will be the kids competition in the afternoon, and Sunday is for the Pro's.  The weekend will feature a street fair atmosphere with over 140 vendors, lots of yummy food, live music, arts and crafts, and, oh yes…the sandcastles are amazing!!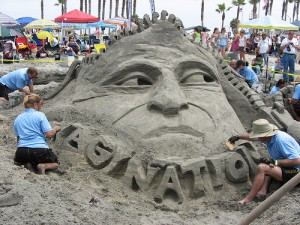 Being an Imperial Beach girl, I think I've attended almost every single competition.  It's a lot of fun!  Be sure to get there early on Sunday if you want to view the Professional Sandcastles.  They get started at 9am, and it's really something to see the detail that goes into these castles as they're being built.  They can get very large and very intricate.  They will only be preserved until 4pm, because of the tides, and rascal children who love to destroy them as the barriers come down.  There's no admission, but bring some extra pocket money for the street fair, parking, award-winning ice cream at the entrance to the pier at Cow-A-Bunga, and a pretzel next door at Pretzels & Much More.
Speaking of castles…If you're looking to own a little piece of coastal San Diego, but are scared away by the price tags, Imperial Beach may be the community for you.  Located in the South West corner of the County, with close proximity to Coronado Island, Imperial Beach offers what great beach cities do…laid back attitudes, great surf, beautiful sunsets, superb weather, and the housing prices are still very affordable.  Buyers did you hear that?  You can own property close to the ocean!  To give you an idea of just how affordable I'm talking…Right now the lowest priced three-bedroom house in the City of Imperial Beach is on the market for only $199,000!  You may get your very own beach castle after all!
Contact me if you'd like a personal tour of these beach homes.  See you at the Sandcastles!!
Tiffany Homa
Your San Diego REALTOR®